Sign up for your Trial Account
                                                                 Version 2022 is here!
Works With:  QuickBooks Enterprise, Premiere, and Pro Desktop editions.  Use it local or Hosted
Runs On Right Networks as well as most other Hosted systems. 

( Note our system runs on most Hosting companies platforms)
Print Large Batches of Labels with just 2 clicks!
The System gathers and utilizes data from your Invoices, Sales Orders, Purchase orders, Item List, Inventory Receipts, or Sales Receipts so you don't have to re-type anything to print Labels! Simply enter the order number and print.  
QuickBooks Barcode can be accomplished rapidly and conveniently
QuickBooks Barcode production can be slow and time consuming unless you have this tool!  You can automatically print Labels for all your line items from transactions inside QuickBooks, Any Barcode type can be used.
Works with your existing printers!
If your own a Label Printer we can use that device to print Labels or speak to one of our experts for a recommendation on a new more convenient Label printer. examples of frequently used printers are Zebra, Dymo, and Brother Label printers. 
No mistakes and mis-Labeled product!
No more copying and Pasting data into a separate labeling program.  No need to re-type data. Improve Labeling Accuracy to ensure that the correct labels go onto the correct products.
Design your Label your way
get more flexability to add images, barcodes , static text, and text oriented at any angle.  Fonts size is in your control. Built to be used with your Thermal printer , or try out our bundled printer.
Installation Included
We install and configure it for you if needed.  If you are frustrated by competing solutions that claim to work with QuickBooks but are too complex to configure or use then search no more.  We will help.
Print using orders: 
 ( Invoices, Sales Orders, Purchase Orders, Item List, Inventory Receipts, Sales Receipts) 
Simple and Fast:
1.) Input the the order number
2.) Pull up your order in our system
3.) Select your Label printer
4.) Select your print template ( designed in our system)
5.) press print!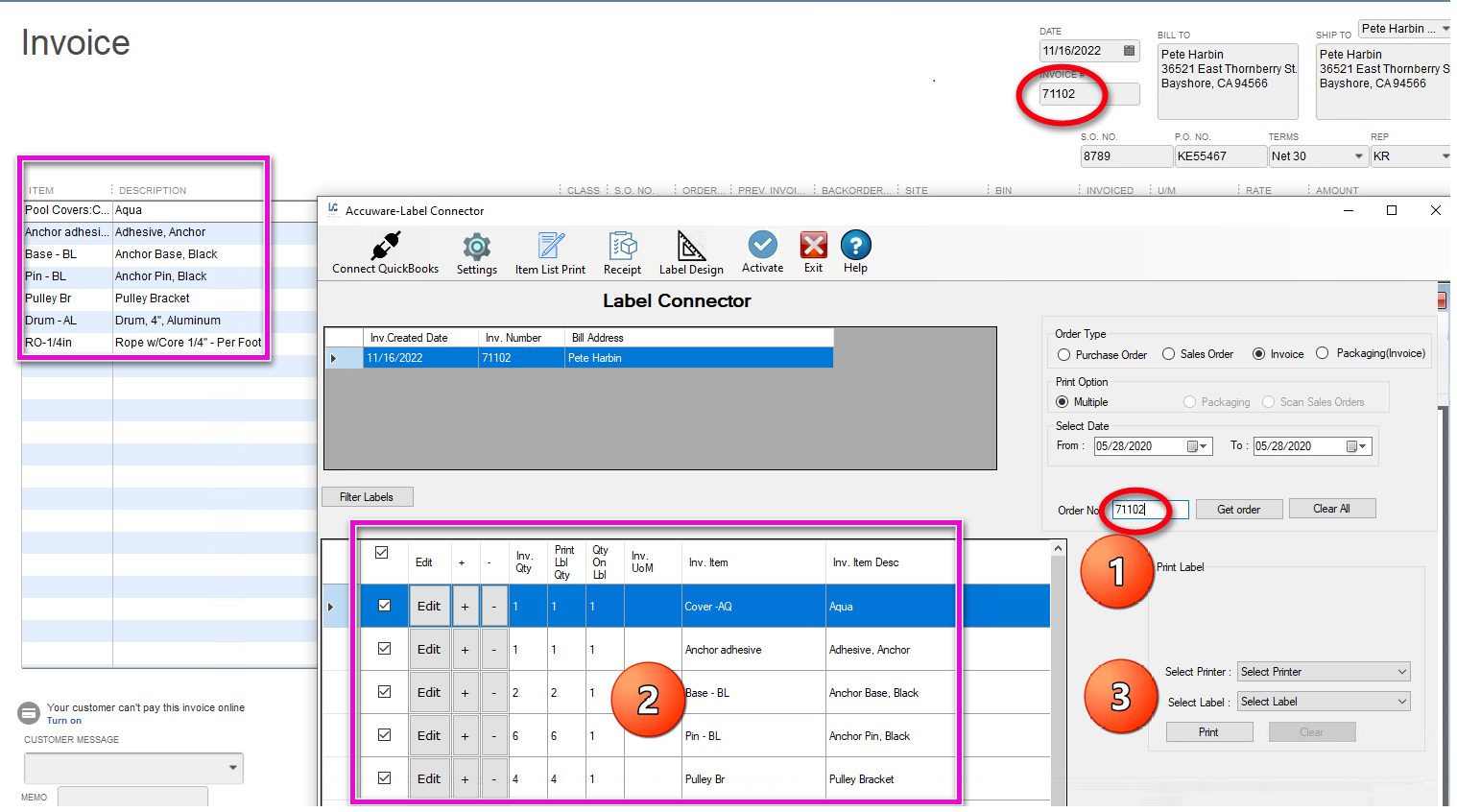 Print using your existing QuickBooks items list: 
 ( Use your items data including custom item fields! )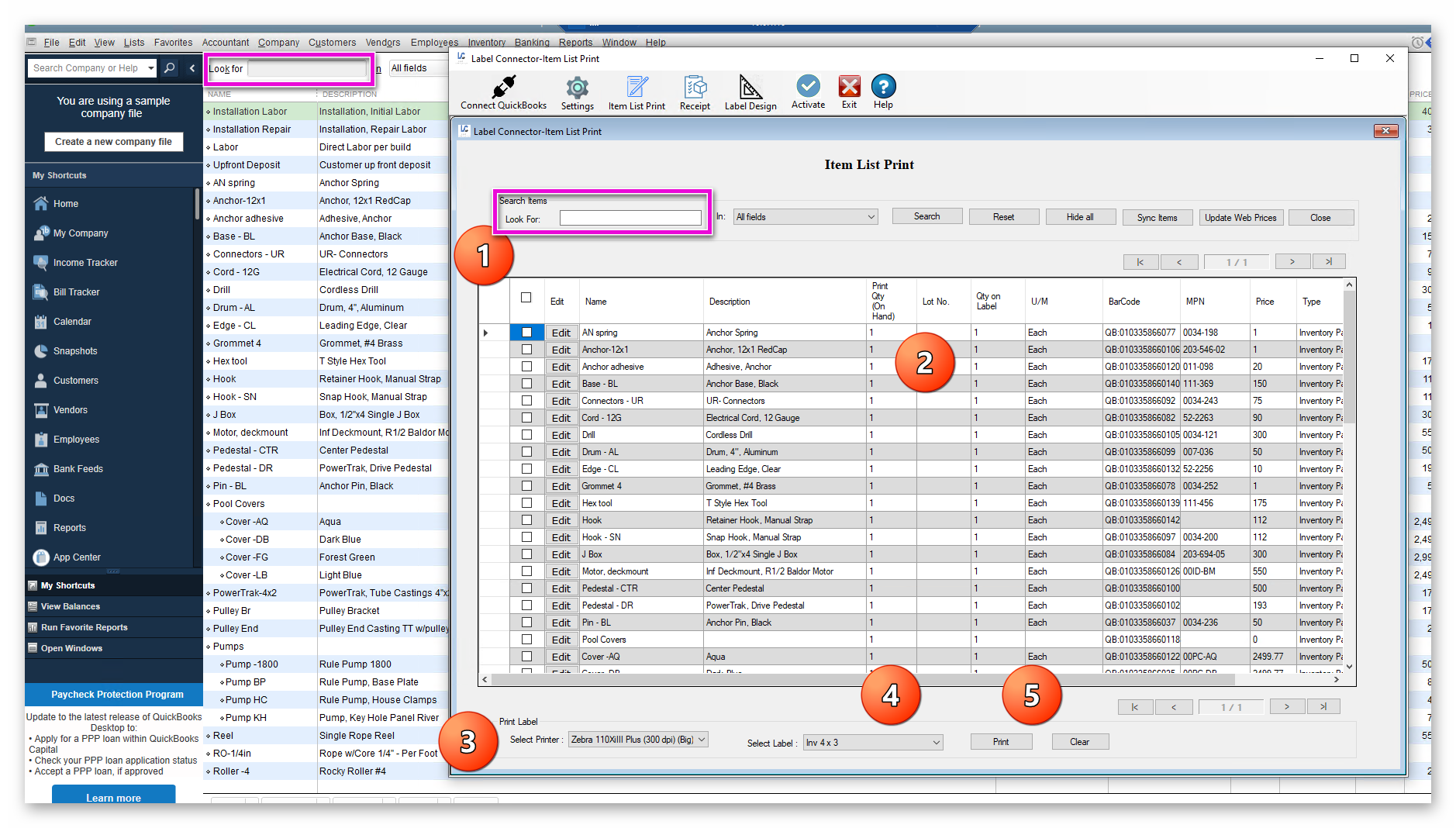 No more re-typing:
1.) Search and Filter the Items list  same methods QuickBooks uses
2.) Display your items list search results , enter qty to print
3.) Select your Label printer
4.) Select your print template ( designed in our system)
5.) press print!
Design your Labels your way: 
 ( Layout the size and design include what you need) 
No more restrictions:
1.) Design unlimited Label Templates
2.) Add Text , Barcodes , Images.  Perform test prints of your design to your Label printer.
3.) Select your Label printer ( no limit on number of printers) 
4.) Link to a long list of QuickBooks Data elements, already built in!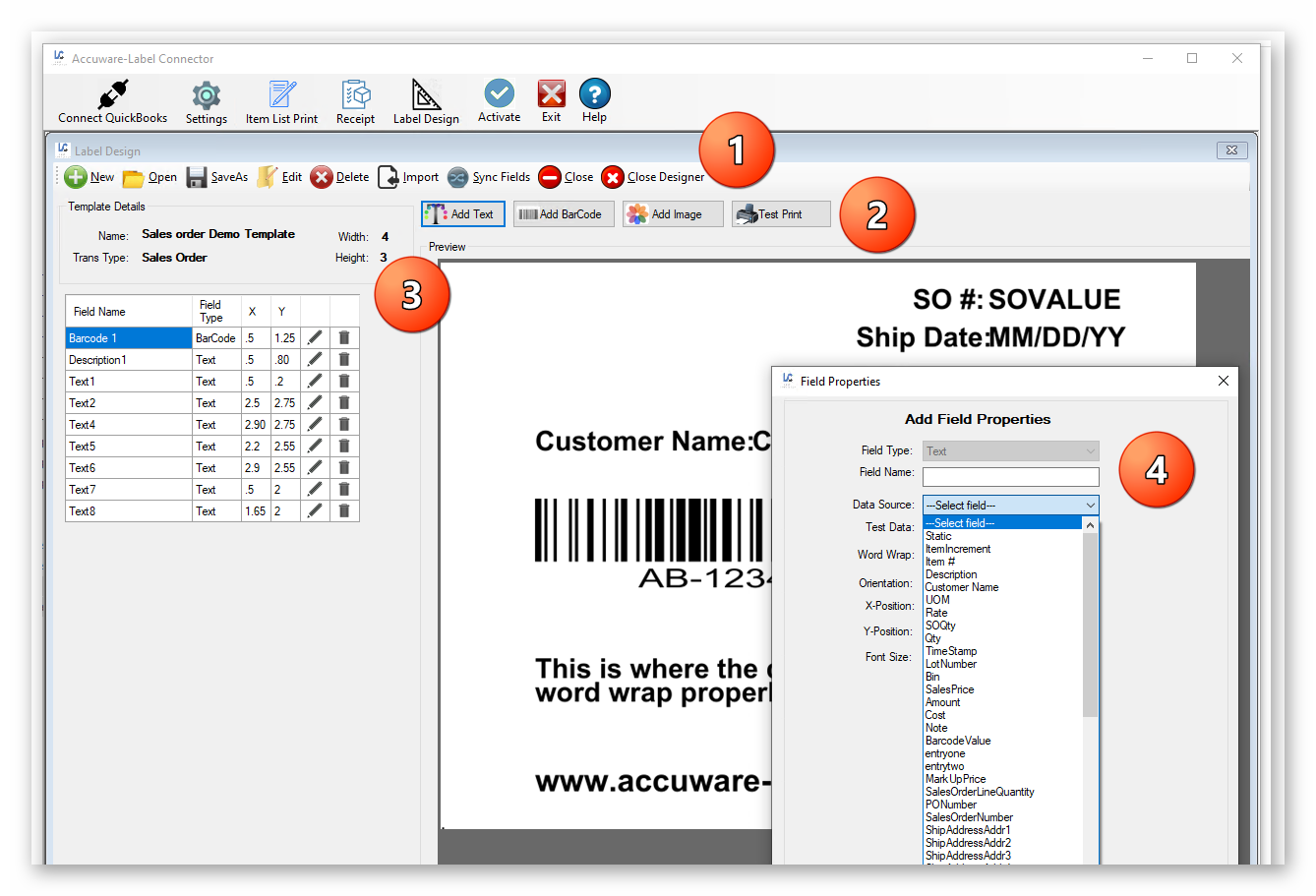 If you need more intensive Label designing we can add on the Bartender Label designer 
( Some examples Below)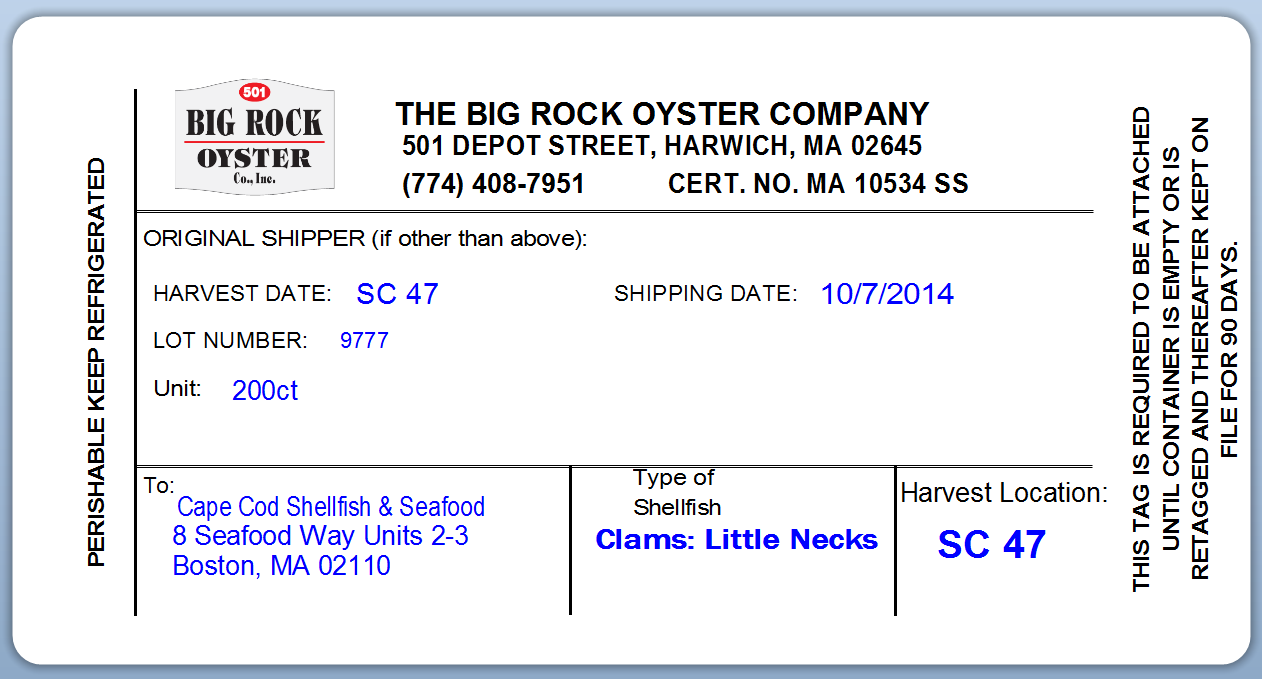 Label Based on Invoice data
Label utilizing Lot number and other assorted fields from Invoice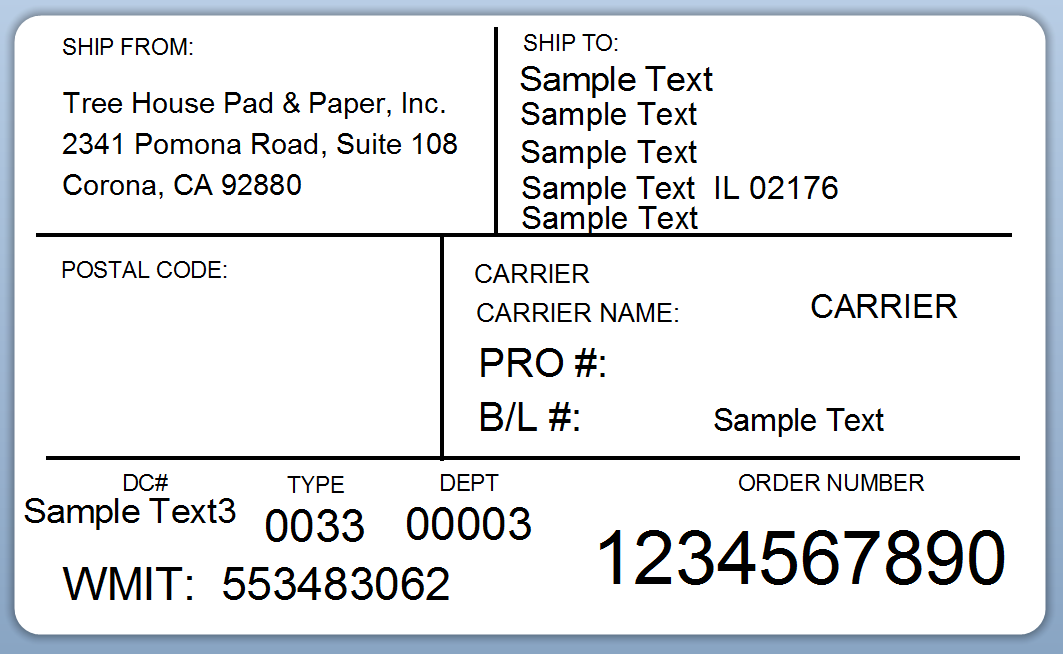 Complex Shipping Label
Design 4 x 6 labels with customer address and other order related information from the Invoice , or packing slip header.

Basic Product Label
Pull in QuickBooks Item Name and description.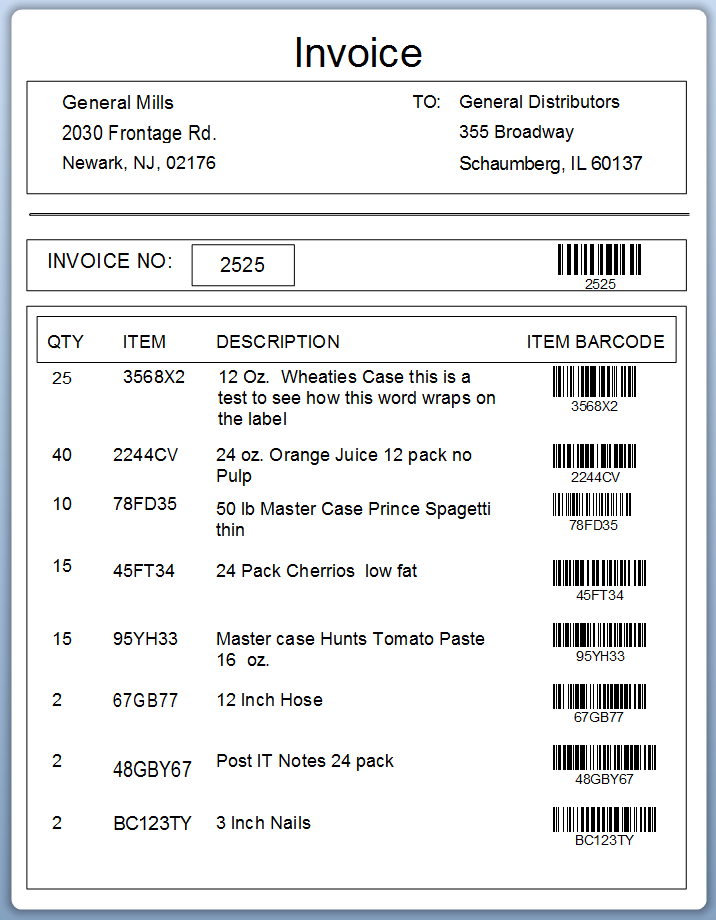 Barcode Packing slip or Invoice
Create Pages with Multiple Items per page to create Barcodes pick lists , packing slips , or Invoices.
Barcode System for QuickBooks. Get labels done quickly and easily.
Label Connector facilitates the creation of Labels only. If you need to get your product Labels either on the inbound side or outbound orders we can help.  No Label is too complex.
( select images below to enlarge / view in light box)
Look No Further. Get Started Today
Speak to an Expert
We welcome the opportunity to speak with you about the product any time. Give us a call at 1-630 858 8410
LEARN MORE
We are expanding an extensive library of our features and functions. Fill out the very brief contact form to see an insiders view.
Customizable
Accuware is very experienced at connecting our Inventory Tool to other applications within your enterprise to help automate your Inventory Management